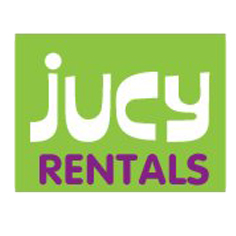 Jucy Camper Hire
JUCY is Australia's favorite campervan rental and car hire company, and prides itself in providing some of the best service and rental vehicles in the industry.
JUCY is highly successful, young, fun and funky with a massive entrepreneurial and team spirit.

JUCY carefully hand selects each vehicle and designs and builds every campervan. The servicing of all JUCY vehicles is computer monitored as part of the "JUCY Care Programme". Vehicles are put through a rigorous pre-hire inspection and on post-hire are "Quality Checked" by two or more members of our team so you can drive with confidence as you see Australia!

camperjourney.com will always include the 'Stress Free' Insurance with $0 excess in the quotes.

Sleeper
Vehicle: Toyota Tarago
Seats: 2 x Seatbelts
Sleeps: 2 (1 x Double Bed)

Crib
Vehicle: Toyota Tarago
Seats: 4 x Seatbelts
Sleeps: 2 (1 x Double Bed)

Grande
Vehicle: Nissan El Grand or similar
Seats: 4 x Seatbelts
Sleeps: 4 (2 x Double Beds)

Condo
Vehicle: Nissan Caravan
Seats: 5 Seatbelts
Sleeps: 4 (2 Double Beds)

Jucy Fleet in New Zealand
Cabana
Vehicle: Toyota Estima or similar
Seats: 2 x Seatbelts
Sleeps: 2 (1 x Double Bed)

Condo
Vehicle: Nissan Caravan
Seats: 5 Seatbelts
Sleeps: 4 (2 Double Beds)

Casa
Vehicle: Fiat Ducato 2014
Seats: 4 x Seatbelts
Sleeps: 4 (2 x Double Bed)