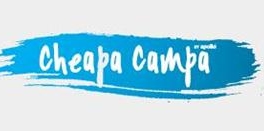 Cheapa Campa
Cheapa Campa is an Australian family owned and run company specialising in low cost campervan and car rentals for the budget conscious renter.
The Cheapa Campa fleet of RV Rentals and Campervan Rentals provides the best combination of comfort and convenience for budget conscious travelers who demand high quality and safety standards. All the recreational vehicles and campervans are equipped with everything you need for an enjoyable holiday on a budget. Cheapa Campa provides all travellers with a complimentary welcome pack for the first night to make your campervan rental holiday as enjoyable as staying in a hotel. The pack contains matches, mini shampoo and conditioner, dishwashing liquid, sponge, soap, salt and pepper, coffee, tea and sugar sachets.
camperjourney.com will always include the Insurance with $0 excess in the quotes.

Cheapa Hitop
Vehicle: Toyota HiAce
Seats: 2 x Seatbelts
Sleeps: 3 (1 Double Bed, 1 Single Bed)

Cheapa 2 Berth
Vehicle: Ford or VW
Seats: 2 x Seatbelts
Sleeps: 2 (1 Double Bed)

Cheapa 4 Berth
Vehicle: Ford, VW or Fiat
Seats: 2/2 x Seatbelts
Sleeps: 4 (2 Double Bed)

Cheapa 6 Berth
Vehicle: Ford or VW
Seats: 2/4 x Seatbelts
Sleeps: 6 (3 Double Bed)

Cheapa 4WD Camper
Vehicle: Toyota HiLux
Seats: 2 x Seatbelts
Sleeps: 2 (1 Double Bed)

Cheapa Outback
Vehicle: Mitsubishi Triton
Seats: 4 x Seatbelts
Sleeps: 2 + 2 (2 Double Bed, 2 adults + 2 Children)